Conditions and Treatments
Low-T and Testosterone Replacement Therapy
Testosterone is much more complicated than simply being a 'sex hormone.' It's essential for normal body function, performance, and development in every man. Low testosterone can cause serious symptoms like fatigue, mental clarity issues, depression, loss of muscle mass, weight gain, low libido, poor erections, or the ability to gain or maintain an erection like you used to achieve.
Most men begin experiencing changes in their hormone levels starting in their 30's, and ignoring your health, diet or a lack of exercise can make your natural hormone decline happen even faster. You may start to notice the decline in performance or your ability to achieve satisfactory erections as one of the first noticeable physical manifestations of your decline in testosterone. You should know and monitor your testosterone levels to maintain optimum health and performance. The older you become, the lower your T levels, and it declines faster for some men than for others. If you have any symptoms of low testosterone, you should get your T-levels checked.
You may also benefit from customized Testosterone Replacement Therapy (TRT) from Revibe. Testosterone replacement and hormone management requires expertise. Your hormones are serious business, and you need a local health care professional and testosterone experts you can rely on for questions, support, and treatment when you need it – not a chatbot, or call center from an online low-cost generic testosterone website.
Revibe Men's Health has successfully treated thousands of men with Low-T. We can address your symptoms to help deliver similar vitality and performance that you enjoyed when you were younger.
Testosterone replacement therapy (TRT) aims to optimize your testosterone levels to help rid you of the symptoms of Low-T. If you've been diagnosed with hypogonadism or "Low T," and do not exhibit any high-risk factors for TRT use in your medical history, your healthcare provider will be able to prescribe testosterone replacement therapy (TRT) for you.
Testosterone replacement therapy aims to restore your testosterone to optimal levels. Sometimes also called androgen replacement therapy, TRT can come in many different forms to help address issues related to low testosterone.
You may have heard testosterone replacement therapy, or TRT, discussed or written about as an all-around beneficial treatment for the broadest of symptoms for men. "Tired? Stressed? Low sex drive? Moody? Ask your doctor about testosterone replacement therapy!" The truth is, testosterone replacement therapy and issues impacting Low-T are more complex than that, and there are legitimate reasons your testosterone replacement therapy should be monitored by a healthcare provider.
Low testosterone symptoms are sometimes associated with low levels of testosterone in the body. Some symptoms of low testosterone are commonly associated with a testosterone deficiency such as reduced erectile function. In contrast, other symptoms are more challenging to attribute to testosterone deficiencies, and we classify them as non-specific. The more symptoms you experience, the more likely it is that your symptoms are due to a testosterone deficiency.iii
Specific 
Low-T Symptoms
Reduced sex drive
Reduced erectile function
Loss of body hair
Less beard growth
Loss of lean muscle mass
Fatigue
Obesity
Depression
Non-Specific
Low-T Symptoms
Lower energy level
Loss of endurance
Loss of physical strength
Loss of focus
Difficulty finding words
Decreased work performance
Diagnosing Low Testosterone​
The need for testosterone replacement therapy (TRT) is diagnosed by two factors:
A blood test that shows low levels of the hormone.
Symptoms associated with low testosterone.
Some men may have low testosterone levels without ever experiencing symptoms, while others can experience symptoms with relatively normal testosterone levels. Generally, when you have both low testosterone levels and associated symptoms, it is an indication that Low-T could be causing the symptoms.
Are you experiencing a number of these symptoms and think you may have low testosterone levels?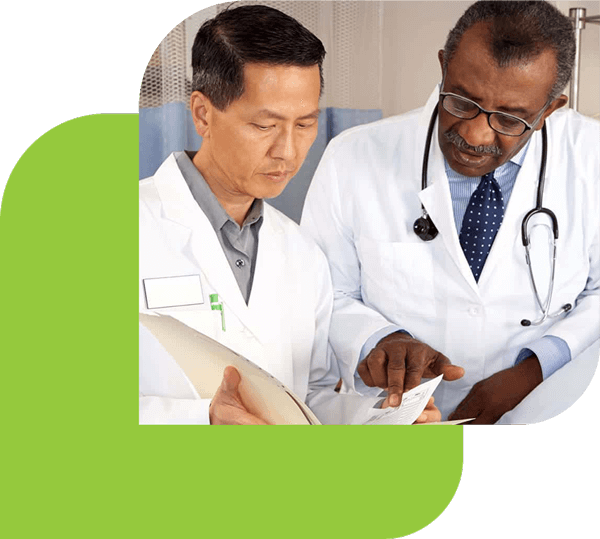 A Science-Based Approach to
Testosterone Replacement Therapy​
We believe that the best treatment is tailored and customized. That is why all our treatments start with a quick, thorough, one-on-one consultation with one of our medical providers. Our providers listen to your challenges, take your history into account, and then develop a customized treatment plan designed to effectively resolve your low testosterone levels and symptoms.
Initial Consultation
You will meet with one of our qualified medical providers. You and your provider will discuss any symptoms of low testosterone levels, as well as your history and any related factors.
Unlike other doctor's offices or men's clinics, there's no waiting time at Revibe Men's Health and the process is confidential.

Testing & Treatment Plan
Depending on what your provider finds during your initial consultation, he may recommend additional testing or blood work. Then, he will use the data collected during your consultation, along with any available test results, to create a low-testosterone treatment plan that is customized to your needs.
Treatment & Monitoring
Many patients notice some benefits in a matter of weeks, while other results can take longer to appear. If you ever feel like you are not getting the results you are looking for, just talk to your provider. He may recommend follow-up testing, along with a change in your treatment.
Low-T and Testosterone Replacement Therapy Treatments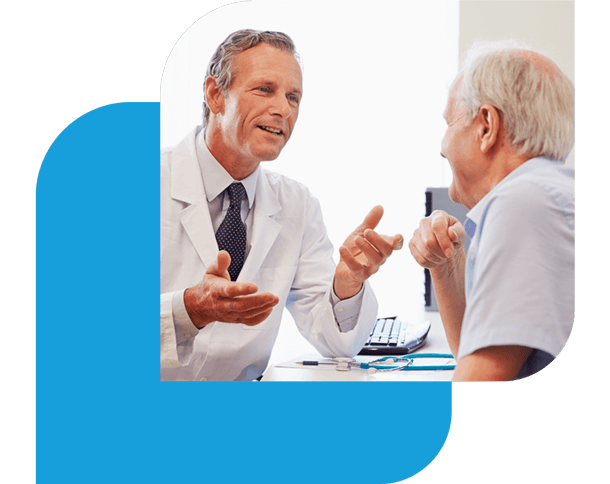 Large-scale studies have shown that several types of clinical testosterone application methods are equally effective.v The decision of what treatment is right for you will be up to you and your provider.
Injectable Low-T treatments are typically delivered once a week. The injections can be performed in our office, or a clinician can train you to perform the injection yourself, at home. Injections are a good option for men who do not want to deal with applying a cream every day, or who may have difficulty absorbing testosterone through the skin.
Cream Low-T treatments are typically applied daily to the skin. This daily application mimics the body's natural testosterone production cycle. Testosterone creams are a good option for men who prefer to avoid injections, and who can easily add the application process to their daily care routine.
Testosterone Replacement Therapy (TRT)
Benefits and Timing
While it is not uncommon for the body to require more time, anecdotally, many of our patients notice the benefits of testosterone replacement therapy in the first few weeks. More scientifically, a recent study in the European Journal of Endocrinology took a look at the benefits of testosterone replacement therapy, how far into therapy they typically first appear, and how long it takes to achieve their maximum benefits of their testosterone replacement therapy (TRT) treatment.iv
| | | |
| --- | --- | --- |
| Therapy Result | Time to Initial Results | Time to Maximum Benefit |
| | | |
| --- | --- | --- |
| Improved Libido | 3 Weeks | 6 Weeks |
| Improved Mood | 3 Weeks | 2+ Years |
| Improved Erections | 3 Weeks | 3-6 Months |
| Improved Sexual Satisfaction | 3 Weeks | 3-6 Months |
| Improved Metabolism & Insulin Sensitivity | 3 Days | 3-12 Months |
| Improved Cholesterol Levels | 4 Weeks | 1-2 Years |
| Reduced Fat Mass | 12-16 Weeks | 12+ Months |
| Increased Strength | 12-16 Weeks | 12+ Months |
| Increased Lean Body Mass | 12-16 Weeks | 12+ Months |
| Improved Bone Density | 6 Months | 3+ Years |
| Reduced Inflammation | 3 Weeks | 12 Weeks |
Revibe Men's Health by Universal Men's Clinic promises every patient a tailored treatment plan based upon individualized assessment, focused therapies, and close monitoring to maximize effectiveness and minimize side effects. With our long history of satisfied patients, we are so confident of the results you will experience we guarantee it!
Easy And Stress-Free Healthcare
I really like how easy and convenient UMC makes it to take care of myself. I wish I had this service years ago. I was a little nervous but it was easy and the provider I talked to was very understanding. This will be my go-to from now on because it is quick, easy, and convenient.
With 10 locations in 9 US cities, it's likely we have a low-testosterone treatment center near you, or set up a telehealth appointment today.