Custom treatments for every man
Conditions and Treatments
Erectile Dysfunction Treatments
ED is part of life for many men. Over half of men over the age of 40 deal with ED or impotence at some point.i Commonly prescribed drugs and supplements fail for about 30% of those men.iii Every man is different, and there's no one-size fits all solution
That's why Revibe Men's Health developed a customized approach to ED treatment.
A Science-Based Approach to
ED Treatment
We believe that the best treatment is tailored and customized. That's why all of our treatments start with a quick but thorough one-on-one consultation with one of our medical providers. Our providers listen to your challenges, take your history into account, and then develop a customized treatment plan designed to effectively resolve your erectile dysfunction.
Initial Consultation
You'll meet with one of our qualified medical providers. You and your provider will discuss your experiences with ED, as well as your history and any related factors.
Unlike other doctor's offices or men's clinics, there's no waiting time at Revibe Men's Health and the process is confidential.

Testing & Treatment Plan
Depending on what your provider finds during your initial consultation, they may recommend additional testing or blood work. Then, they'll use the data they collected during your consultation along with any available test results to create a treatment plan that's customized to your needs.
Treatment & Monitoring
For most of our patients, their first treatment is successful at resolving their ED quickly and effectively. However, if not, don't worry. We can offer a range of treatments, and your provider will work with you to find the treatment that's most effective for you.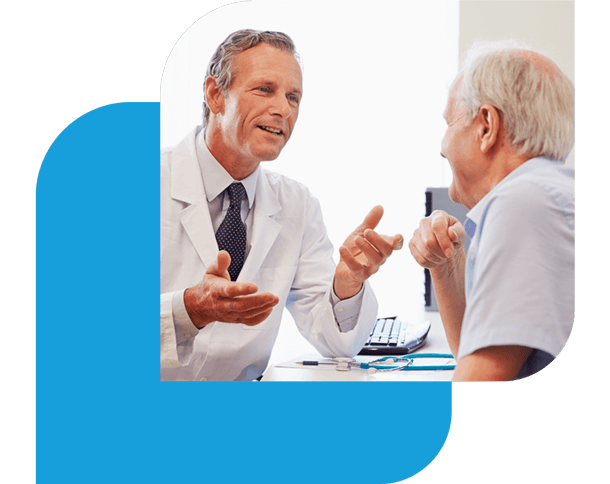 While every treatment plan is unique, we've found a few specific types of erectile dysfunction treatments that work well in our patients.
Three Primary Causes of ED
ED can be caused by a range of factors, from psychological, like anxiety or stress, to lifestyle, like smoking or being overweight, to physical, like problems with blood flow in the body.viii, ix, x
Your brain plays a big part in the process of getting an erection. It's no wonder then that things like stress or anxiety can inhibit your ability to get or maintain an erection. Often, the inability to get or maintain an erection can cause men to experience more stress or anxiety, triggering an ongoing cycle.
Erectile dysfunction can be caused by psychological factors like:
Stress
Anxiety
Depression
Guilt
Low Self-Esteem
Lack of Sexual Desire
There's a clear correlation between many lifestyle factors and erectile dysfunction. Many things that are generally unhealthy for our bodies tend to also inhibit our body's ability to get and maintain an erection.
Erectile dysfunction can be caused by lifestyle factors such as:
Obesity
Lack of Exercise
Smoking and Tobacco Use
Excessive Alcohol Consumption
Uncontrolled Diabetes
Illegal Drug Use
Sleep Disorders
DISEASES & INJURIES THAT CAN CAUSE ED
Erectile dysfunction is also correlated with a range of specific diseases and medical conditions. These can include:
Heart Disease
Clogged Blood Vessels
Diabetes
High Cholesterol
Some Prescription Medications
Treatments for Prostate Cancer or
an Enlarged Prostate
Development of Scar Tissue inside
the Penis
Trauma or Injury to the Penis
Revibe Men's Health by Universal Men's Clinic promises every patient a tailored treatment plan based upon individualized assessment, focused therapies, and close monitoring to maximize effectiveness and minimize side effects. With our long history of satisfied patients, we are so confident of the results you will experience we guarantee it!
Easy And Stress-Free Healthcare
I really like how easy and convenient UMC makes it to take care of myself. I wish I had this service years ago. I was a little nervous but it was easy and the provider I talked to was very understanding. This will be my go-to from now on because it is quick, easy, and convenient.
With 10 locations in 9 US cities, it's likely we have a low-testosterone treatment center near you, or set up a telehealth appointment today.